Produced by the Language Workshop for Children
Four times a year (Fall, Winter, Spring & Summer), every student receives 
A BRAND NEW, FREE Songs & More Workbook/CD set to use at home!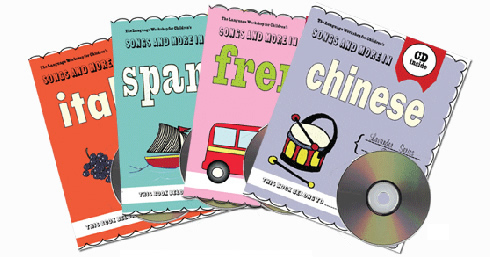 Songs & More
Workbook/CD Series
Every Songs & More Set Includes:
A New CD:
New class songs

New melodies
New vocabulary to absorb
New phrases to learn

New sentence basics to sing and sing again at home
A New Workbook:
That's Glossy

Colorfully Illustrated
Professionally Printed
Durable

Includes all the lyrics to all the songs
Helps kids remember the words that make them happy in class
Encourage your child to listen and practice singing along to the class song CD during the week. Hearing and articulating each of the words and phrases, over and over, helps take a good student and make him an excellent one. Since the lyrics for each song appear in the accompanying workbook, in both the target language and English, both you and your child can fully understand the content. Extra songs, not covered in class, are included as well.
Four times a year (Fall, Winter, Spring & Summer), kids aged 3 and up receive 
A BRAND NEW, FREE LWFC Storybook to use at home!
Every LWFC Class Storybook…
Goes with that session's class CD
Tells an age-appropriate story through child-friendly, illustrated sentences
Helps children practice the sentences they are learning in class
Makes grammar easy
Your child can collect a library of reinforcement materials!